Vegan Peanut Butter Curry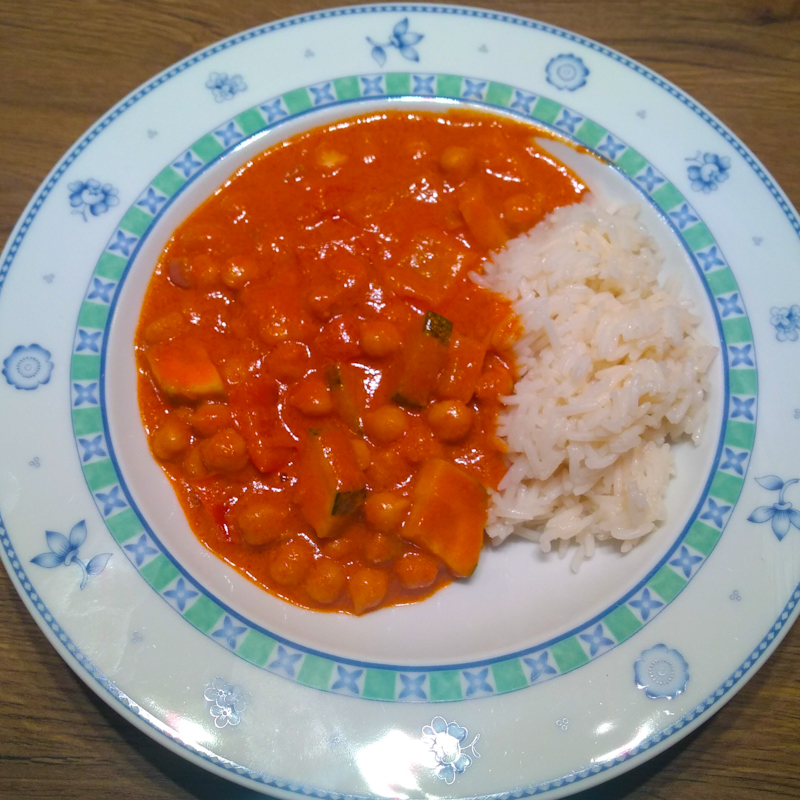 Ingredients
1 bell pepper
1 small zucchini
1 medium onion
1 can chick peas
1/2 table spoon curry power
1/2 table spoon paprika
1 pinch salt
1 pinch cayenne
1 cup vegetable broth
2 table spoon peanut butter
1/2 cup coconut cream
1 table spoon vegetable oil
Serve With
This is a variation on chicken peanut butter curry, but vegan. Because you don't want overcooked vegetables this curry can be done quite quickly.
Steps
1
Cut the bell pepper, zucchini and onion into bite sized cubes.
2
Put a medium pot with the vegetable oil on medium heat, add the onions and cook them until they turn translucent.
3
Add the spices and cook them for a minute.
4
Add the raw vegetables and cook them for a few minutes.
5
Add the vegetable broth, chickpeas and half of the peanut butter.
6
Reduce heat to low and cook for around 10 minutes in a slow boil, until the vegetables are fork tender.
7
Add the coconut cream, remaining peanut butter and season to taste.