Chocolate Cupcakes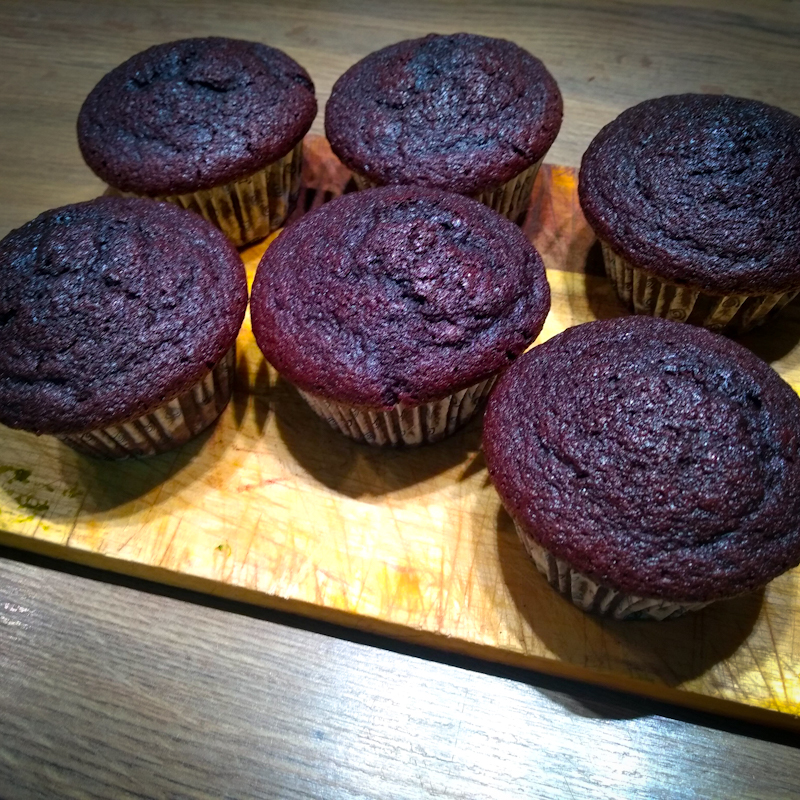 Ingredients
1/2 cup flower
1/2 cup sugar
1 tsp baking powder
1/4 tsp salt
1/4 cup coca powder
1/4 cup melted butter
1/2 cup warm water
1 egg
1 tsp vanilla extract
Tools
bowl
sieve
whisk
cupcake tin
cupcake liners
sauce ladle
oven
A simple cupcake recipe for lazy Sunday coffee. You can add butter cream topping if you like, but that is optional. Makes 6 cupcakes.
Steps
1
Preheat oven to 175° C.
2
Combine the dry ingredients. Shift the flower and coca powder to remove any lumps.
3
Melt the butter in a small pot or the microwave oven and add it to the dry ingredients. Add water that is sufficiently warm to not make the butter stiff again, but not to hot to cook the egg. Warm tap water should work here. Finally add the vanilla.
4
Combine with the whisk to form a slurry. Whisk well to prevent any lumps to form.
5
Put liners into cupcake tin and pour the slurry into the liners. Using a sauce ladle can prevent spillage.
6
Bake for 15-20 min. Check with a toothpick if the center of the cupcake is firm.
7
Let rest until fully cooled.